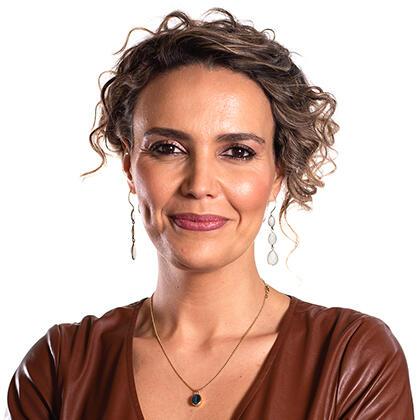 Dr Loubna Bouarfa is the Founder and CEO of OKRA.ai a world-leading company specialising in creating AI solutions for life science companies.
Loubna was born and educated in Morocco, and then pursued her university education in the Netherlands. Having completed her PhD in Machine Learning at Delft University of Technology, Dr Bouarfa spent the following years researching how artificial intelligence can positively impact the world of healthcare. Aspiring to implement AI research to speed up the adoption of research and innovation in pharma, she decided to start and lead her own company, OKRA.ai, in 2016.
OKRA is a leading artificial intelligence company, enabling healthcare professionals to combine all their data in one place and generate actionable, evidence-based insights in real time. With her research experience and clarity of vision, Dr Bouarfa draws from her background in research and engineering, combined with her passion for creating and implementing real world solutions, in order to drive OKRA towards achieving her vision of moving the healthcare industry towards a future of personalised medicine powered by explainable AI. Dr Bouarfa is a passionate advocate for the development of trustworthy and ethical AI and spends a lot of her time talking to healthcare professionals and the general public about the opportunities and challenges of AI development. She is also a champion of women in technology and science, helping younger generations of women find their voice in healthcare and technology. Dr Bouarfa believes that industry has a role to play in helping policy makers create the proper framework to enable innovation, while ensuring appropriate regulation is in place. She sees educating the public on the real risks and promises of AI as part of her role as a pioneering innovator, looking to bring medicine to the forefront of the 4th industrial revolution. This is born out by the numerous awards Dr Bouarfa has won since starting OKRA:
2017: MIT Technology Review Innovators Under 35: Dr. Bouarfa has been honoured by MIT technology review, being named as an Innovator Under 35 for 2017. She was selected from more than 1,000 nominees for her use of Artificial Intelligence (AI) to save lives and improve the pharmaceutical industry's processes.
2018: Forbes Europe's Top 50 Women in Tech: Dr Bouarfa has been selected as top 50 women in tech by Forbes, recognizing the entrepreneurial leadership of Loubna for setting up an AI company in the highly competitive and heavily regulated market of life
sciences and for her drive to reshape this industry with trustworthy AI.
2019: CEO of the Year Science+Technology Awards: Dr Bouarfa has been presented with the CEO of the Year award 2019 at the Cambridge Independent Science and Technology Awards. The competition was fierce with a record number of applications from all over Cambridge. In the CEO of the year category, 6 nominees were shortlisted as eventual finalists with Dr Bouarfa picking up the
prize. The award serves to recognise the impeccable leadership shown by Dr Bouarfa in driving the adoption of OKRA's AI solutions for life sciences.
2019: Best Female-led European Startup–Startup Europe Awards: Dr Bouarfa has been awarded the Best Female-Led Startup at StartUp Europe Awards in a special edition focused on social impact. The special edition of the award ceremony selected 5 best startups in Europe from different categories. OKRA.ai beat 70 start-ups from 20 different European countries to claim the prize for Best Female-Led Startup at the StartUp Europe Awards.
2021: European Young Leaders EYL40 Loubna was selected as a EYL40 for her contribution to the healthcare and AI Agenda for Europe, with the mission to bring ideas forward to revolutionise and rethink healthcare for a world's population increasing to 10 billion people by 2050. The EYL40 program brings together European thinkers and leaders to act on some of the key issues affecting Europe's future: the healthcare evolution, the green and digital transformation, strengthening of our democracy, relations with our neighbours, increasing power sharing, and building a more gender-balanced and diverse Europe.