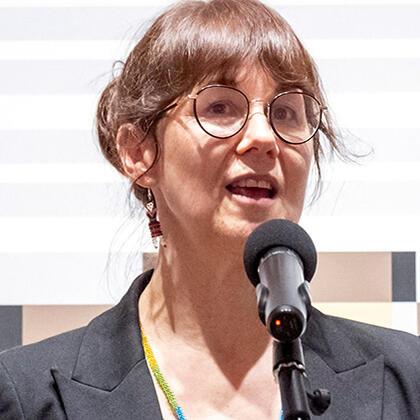 Dr Stephanie Pratt (Dakota and British/American), formerly Associate Professor (Reader) in Art History at Plymouth University, UK, has worked since her retirement as a cultural consultant to several UK cultural institutions and NGOs, most recently for the National Portrait Gallery, London.
Stephanie was the first Cultural Ambassador at Large for the Tribal Council of the Crow Creek Dakota Sioux based at Fort Thompson, South Dakota where she is an enrolled tribal member.
She has published extensively on the visual and museum representations made of Native American/First Nations/Indigenous peoples from early contact to the present day. Her seminal monograph on historic visual representations, American Indians in British Art, 1700-1840, was published by Oklahoma University Press (2005). She curated two loan exhibitions held at the National Portrait Gallery London, Between Worlds, Voyagers to Britain 1700-1850 (2007) and George Catlin: American Indian Portraits (2013).