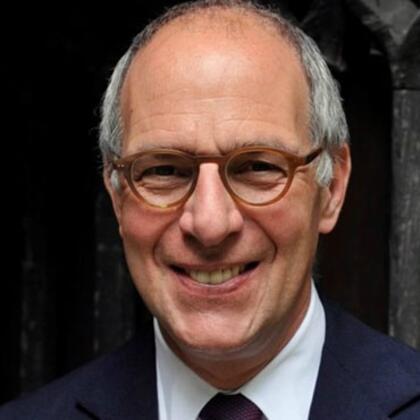 Dr Loyd Grossman CBE is Chairman of The Royal Parks and Chairman of Gresham College Council. He was born in Boston in 1950 and graduated firstly from Boston University (BA), and then the London School of Economics (MSc Econ) in 1977. In 2008 he returned to academia, graduating from Magdalene College, Cambridge (PhD, MPhil) in 2014.
Loyd began writing for a number of music publications- including Rolling Stone, Fusion, and Vibrations- while an undergraduate. After starting a full-time career in journalism with Harpers & Queen and the Sunday Times he was diverted into television where as a writer, presenter or deviser he was involved in a wide range of programmes including Through the Keyhole, MasterChef, Behind the Headlines, History of British Sculpture, Loyd on Location and Build Britain, He also wrote and presented a series, Composers at Home, for Radio 3, and currently contributes to many magazines and newspapers on heritage matters.
Loyd's 2015 study of the American artist Benjamin West - Benjamin West and the Struggle to be Modern was a Sunday Times 'Art Book of the Year.' His recently published, An Elephant in Rome: Bernini, the Pope and the Making of the Eternal City has been widely praised. Simon Jenkins described it as 'a brilliant vignette of 17th-century Rome… rolled into an erudite narrative. It brings to life the relationship between a genius and his patron, and with an ease of writing that is rare in art history.'
Loyd is President of The Arts Society (formerly NADFAS) and a Vice President of the Churches Conservation Trust and was Chairman of the Heritage Alliance from 2009-2018, Chairman of the Churches Conservation Trust from 2007-2016, Chairman of the University for the Creative Arts from 2008-2012, Deputy Chairman of The Royal Drawing School from 2014-2017, a member of the Court of Governors of the LSE from 1996-2009, and is now an Emeritus Governor of the LSE. He is a Governor of The British Institute of Florence, a Trustee of The Warburg Charitable Trust, Patron of the Association for Heritage Interpretation and Patron of Heritage Open Days.
Loyd's knowledge of and fascination with food led him to create his own brand in 1995, which became Britain's most successful new premium food brand.
Loyd is a keen guitarist and he and his band – The New Forbidden – made their eighth appearance at Glastonbury in June 2019!