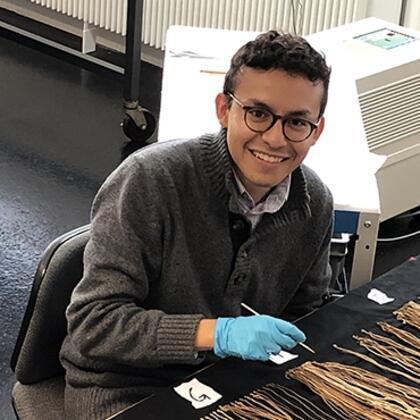 Manuel Medrano is a Marshall Scholar in the Department of Social Anthropology at the University of St Andrews. His research centres on the utilization of data science techniques to further the decipherment of khipus—knotted string recording devices that served the function of writing in the Inka Empire of South America.
In addition to ongoing decipherment efforts, Manny studies khipus held in museums and private collections around the world, with particular emphasis on the history of khipu excavation, exchange, and study. His forthcoming book on the state of the field, Quipus: Mil años de historia anudada en los Andes y su futuro digital (Khipus: A Thousand Years of Knotted History in the Andes and its Digital Future), will be published in 2021 in Lima, Peru by Planeta.
Manny is committed to public engagement aimed at popularizing Andean studies and the digital humanities. His research has been featured by NPR, Google Arts & Culture, the Boston Globe, CBC, iHeartRadio, and NewScientist, among other outlets. He holds an A.B. from Harvard College, magna cum laude with highest honors, in Applied Mathematics.