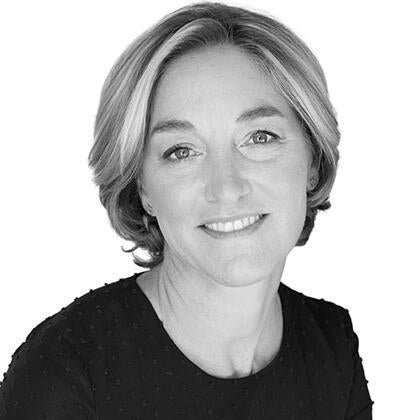 Sadie Morgan OBE is a co-founding director of dRMM, a RIBA Stirling Prize-winning architecture studio.
Championing design for over two decades, Sadie is involved in several advisory roles including chairing the Design Panel for High Speed Two (HS2) and acting as commissioner for the National Infrastructure Commission (NIC). She has been instrumental in setting up the NIC's Design Group, which places design at the heart of major infrastructure projects.
Sadie was made board member of the UK government's housing accelerator, Homes England, in 2019, followed by a commissioner role on the Food, Farming and Countryside Commission in 2020. In 2021, she became a member of the Net Zero Building's council.
Sadie lectures internationally about her practice and the role of design in infrastructure and large-scale development. In 2013, she became the youngest president of the Architectural Association, followed by an honorary doctorate from London South Bank University and professorship at the University of Westminster in 2016.
In 2021, she was awarded the visiting Sir Arthur Marshall Professorship in Sustainable Urban Design at Jesus College, Cambridge University.
In 2017, Sadie became a Mayor's Design Advocate for the Greater London Authority (GLA) and was named 'New Londoner of the Year' by New London Architecture (NLA). She has won the 'Female Architectural Leader of the Year' BD award and an 'AJ100 Contribution to the Profession' award. In 2020, she was awarded an OBE for services to design advocacy. Most recently, Sadie established the Quality of Life Foundation – an independent body prioritising wellbeing in the built environment.