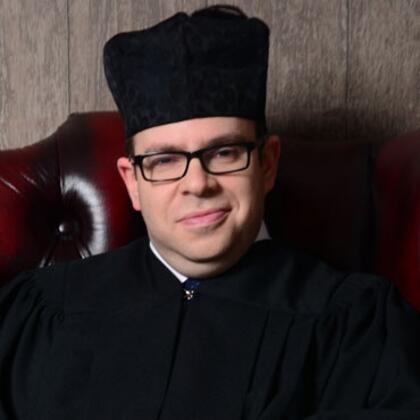 Eliot is a freelance synagogue musician, much in demand as a choirmaster and Cantor at synagogues and Jewish communities across the UK and beyond. He currently serves as choirmaster at both Mill Hill Synagogue and Edgware Synagogue, and is working with the United Synagogue on a project to preserve and transmit traditional liturgical music and practice to the next generation of synagogue music professionals.
He also directs his own professional choral group - The Rinah Ensemble - which is frequently asked to accompany many of today's top Cantors for concerts, events and special services.
Following his initial scientific studies at Cambridge University, Eliot trained as a singer and conductor at the Guildhall School of Music, and later on the Opera Course at the Royal Academy of Music, where he was awarded the DipRAM, the Academy's highest award for postgraduate study. He studied Jewish liturgical music at the Tel-Aviv Cantorial Institute.
In 2009 Eliot was appointed Director of Music - and in 2013, Hazan (Cantor) - to the Spanish & Portuguese Jews' Congregation, the UK's oldest Jewish community. He is currently working on a complete edition of that synagogue's musical-liturgical cycle, which will result in a publication and full set of recordings by the Congregation's publishing society.
A full list of Eliot's forthcoming engagements can be found on his website:
www.chazaneliotalderman.co.uk