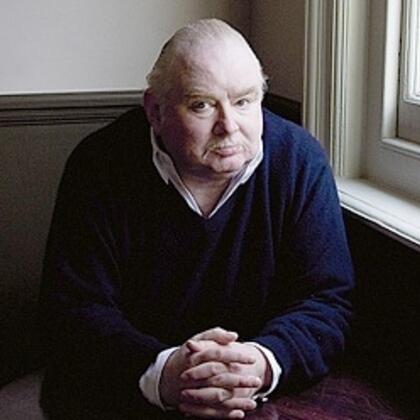 Novelist, biographer and poet Peter Ackroyd was born in London on 5 October 1949. He graduated from Clare College, Cambridge, and studied at Yale University as a Mellon Fellow, where he completed Notes for a New Culture: An Essay on Modernism, published in 1976. On his return from Yale, he worked for The Spectator magazine in London as literary editor (1973-7), then as joint managing editor (1978-82) and film critic. He is chief book reviewer for The Times newspaper, and a regular broadcaster on radio. He has been a Fellow of the Royal Society of Literature since 1984.
Equally acclaimed for both his inventive biographies and his formally diverse fiction, Peter Ackroyd blends past and present, fact and fiction in his writing, much of which revolves around the city of London, evoked as both a powerful physical presence and as a sinister brooding metaphor, haunted and animated by its past and its characters, both real and imaginary.
He also displays a genius for literary impersonation, both in his biography and fiction, notably in The Last Testament of Oscar Wilde (1983), written as Wilde's autobiography and winner of a Somerset Maugham Award. Similarly, Ackroyd was forced to employ new methods of writing biography in T. S. Eliot (1984), winner of the Whitbread Biography Award and the Heinemann Award, when he was prevented from quoting extensively from Eliot's poetry and unpublished correspondence. His mammoth and controversial biography of Charles Dickens was published in 1990, while his biography of William Blake, published in 1995, avoided the two traditional views of Blake as either a madman or enlightened visionary. His biography of Henry VIII's friend and chancellor, Thomas More, whose refusal to ratify Henry's marriage to Anne Boleyn led to his own execution, was published in 1998.
Ackroyd's first novel, The Great Fire of London (1982), is a reworking of Dickens' Little Dorrit. The book set a formal pattern for many of his later novels, including Hawksmoor (1985) and The House of Doctor Dee (1993), by interpolating historical segments with present-day narratives. Hawksmoor, winner of both the Whitbread Novel Award and the Guardian Fiction Prize, was inspired in part by Iain Sinclair's poem 'Lud Heat', written in 1975, which inferred a mystical power from the positioning of the six churches which the architect Nicholas Hawksmoor built in the East End of London during the reign of Queen Anne. The novel gives Hawksmoor a diabolical motive in the siting of his buildings, and creates a modern namesake, a policeman investigating a series of child murders, a seeming consequence of Hawksmoor's work. Chatterton (1987), is a complex, layered novel which explores plagiarism and forgery. His most recent novel is The Casebook of Victor Frankenstein (2008), written in the voice of Victor Frankenstein himself.
His other novels include First Light (1989), an original distillation of English landscape and history; English Music (1992), which shifts dramatically in time to focus on events in English history seen through its myths and traditions; The House of Doctor Dee (1993), which epitomises Ackroyd's fascination for the sense of history and place which lurk in the hidden corners of London, in this case Clerkenwell in the east of the old city. The book repeats the dual narrative form, narrated in turns by Matthew Palmer, a contemporary researcher, and John Dee, the Elizabethan alchemist, both inhabitants of the same house in Clerkenwell, separated and connected through several centuries; Dan Leno and the Limehouse Golem (1994) brings together a series of grisly East End murders and the world of Victorian music hall, with a cast of real and imagined characters, from music hall performer Dan Leno to Karl Marx and George Gissing; and in Milton in America (1996), Ackroyd creates an imaginary life for the poet, who travels to New England and founds a Puritan community ('New Milton'), which he rules.
The Plato Papers (1999) is set 2000 years in the future where the citizens of London look back on the Mouldwarp era, a dismal time in history which spanned 1500 to 2300 A.D. The Clerkenwell Tales, a story of adventure and suspense set in the late medieval world, was published in 2003, followed by The Lambs of London, in 2004, and The Fall of Troy (2006).
Peter Ackroyd's published poetry consists of three collections, and he is also the author of works of literary criticism, as well as a book about the history of transvestism. London: The Biography (2000), is a history of the city that has exerted a powerful influence on his writing, and was awarded the South Bank Show Annual Award for Literature. The Collection: Journalism, Reviews, Essays, Short Stories, Lectures (2001), brings together essays on literature and film. His television series on London for the BBC was screened in autumn 2003, accompanied by the tie-in book, Illustrated London (2003), which was shortlisted for the 2003 British Book Awards Illustrated Book of the Year. His latest book about London is Thames: Sacred River (2007).
Peter Ackroyd's first play, The Mystery of Charles Dickens, was first performed in London in 2000 by the actor Simon Callow, in a production directed by Patrick Garland, and Dickens: Public Life and Private Passion, was published in spring 2002 to accompany a three-part BBC TV series.
Albion: The Origins of the English Imagination, a cultural history of England from the Anglo-Saxon period to the present, was published in September 2002. Peter Ackroyd is also working on a series of biographies for Chatto & Windus entitled Brief Lives, the first of which - Chaucer - was published in 2004. He is also writing a series of non-fiction children's books for Dorling Kindersley entitled Voyages through Time.
Recent works include London Under (2011) and The English Ghost (2010).
Peter Ackroyd lives in London. He was awarded a CBE in 2003.