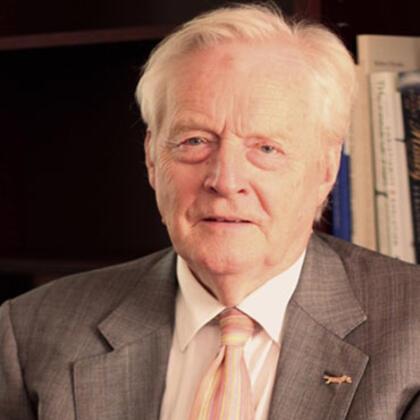 Professor Sir Roderick Floud FBA
Provost of Gresham College (2008-2014)
Professor Sir Roderick Floud FBA is an Honorary Fellow of Gresham College having served as the Provost of Gresham College between 2008 and 2014, taking over the role from Lord Sutherland of Houndwood KT FBA and being followed by Sir Richard Evans FBA. Sir Roderick Floud is President Emeritus of the London Metropolitan University and he was previously the Chairperson of the Standing Committee for the Social Sciences at the European Science Foundation.
His particular interests in part-time and mature students in higher education has been reflected in many of his publications as well as his participation in numerous boards and committees. Of particular note are his roles as President of Universities UK (representing 121 British Universities), Vice-President of the European University Association (where he was particularly involved in the 'Bologna process' of converging European education systems), and Chair of the Social Sciences Committee of the European Science Foundation (representing research councils and learned academies from thirty European Countries). In 2005 he received a knighthood for his services to Higher Education in the Queen's Birthday Honours.
Sir Roderick Floud is an economic historian, with publications on topics as diverse as technological change, the use of IT in the study of history, the evolution of technical education and changes in human height, health and welfare. He holds honorary fellowships from Emmanuel College Cambridge, Wadham College Oxford, Birkbeck College London and the Historical Association, as well as honorary degrees from City University London and the University of Westminster. He was elected an Academician of the Social Sciences in 2000 and a Fellow of the British Academy in 2002.