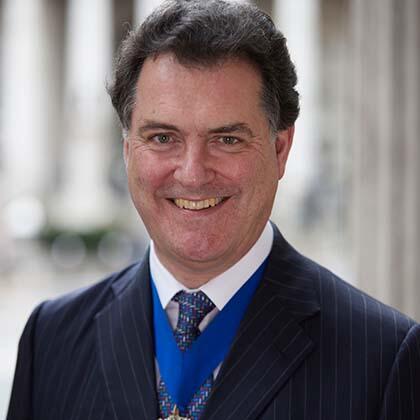 The Rt. Hon The Lord Mayor Vincent Keaveny
Alderman Vincent Keaveny was elected as the 693rd Lord Mayor of the City of London on 29 September 2021 and took office on 12 November 2021. He previously served as Sheriff of the City of London in 2018-19 and in that capacity supported the then Lord Mayor, undertaking numerous engagements and activities at home and abroad.
Vincent is a partner in the international business law firm, DLA Piper. He advises on debt capital markets, structured finance and securitisation transactions in the UK and banks, financial institutions and corporate clients in the UK and internationally on banking, finance and capital markets transactions. He is listed as a leading practitioner in his area of practice by all of the principal legal directories and is included in the legal '500' Hall of Fame for securitisation practitioners. Until May 2019 he was International Co-Chair of the Financial Services Sector at DLA Piper. In 2014/15 he served as President of the City of London Law Society. He is an Honorary Bencher of Gray's Inn.
Since his election to the City of London in 2013 as Alderman for the Ward of Farringdon Within, Alderman Keaveny has served on a number of City Corporation Committees. He is currently a member of the Policy & Resources Committee and the Homelessness and Rough Sleeping Subcommittee. He also a Governor of the City of London School. Vincent is also Co-Chair of the HM Treasury & BEIS Socio-Economic Diversity Taskforce.
A Liveryman of the City of London Solicitors', the Woolmen's, Distillers', Spectacle Makers', Stationers', Framework Knitters', Upholders' and Security Professionals' Companies, Vincent served as Master Solicitor in 2014/15. He is also a member of the City Livery Club, the City Pickwick Club and the Royal Society of St. George (City Branch) and the Court of The Honourable The Irish Society. Vincent is the Senior Patron of the Farringdon Ward Club.
Vincent graduated from University College Dublin with a BCL and subsequently obtained an MLitt from Trinity College, Dublin. He was recognised in 2018 by UCD as their Law Alumnus of the Year. Since his admission as solicitor in England & Wales in 1992 he has worked in private practice in the City. Vincent's interests include theatre and the arts. He is a trustee of the Sir John Soane's Museum, where he is the Independent Director on the Board. He chairs the board of the vocal ensemble, Exaudi, and is a director of Actors Touring Company.
Vincent is married to Amanda, an Intensive Care Nurse and in what spare time he has, he enjoys tennis and walking their Labrador.
Mayoral Theme
People with Purpose - Vincent's year will champion a purpose-led and people-focused UK FPS sector; growing the global competitiveness of the UK as a world leader in ESG and sustainable finance and home to the best and most diverse global talent; driving social mobility at all levels.