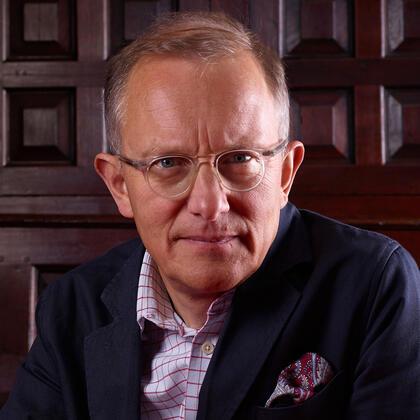 Professor Simon Thurley CBE
Visiting Professor of the Built Environment (2009 - 2022)

Provost of Gresham College (2020 - 2022)
Professor Simon Thurley is a leading architectural historian, a regular broadcaster, Visiting Gresham Professor of the Built Environment since 2009 and was Provost of Gresham College from 2020 to 2022.
He was, for thirteen years, Chief Executive of English Heritage, the Government's principal advisor on the historic environment in England. Prior to joining English Heritage in 2002, he served as the Director of the Museum of London, the world's largest city museum. Between 1990 to 1997 he was the Curator of Historic Royal Palaces, the organisation is responsible for Hampton Court Palace, the Tower of London, Kensington Palace, the Banqueting House, Whitehall and Kew Palace.
Throughout his career, Simon has been passionate about communicating English history. He is the author of more than ten books including The Building of England, his history of English architecture, and The Royal Palaces of Tudor England, the subject of his PhD taken at the Courtauld Institute. At Historic Royal Palaces, and later at English Heritage, he was responsible for major restoration projects - the most recent of which was the restoration of the Stonehenge landscape and the construction of a new museum there. At the Museum of London, he led an exciting exhibition programme, inspiring people with a passion for the city. His television projects include, most recently, Heritage! the story of the heritage movement in Britain made for BBC4.
He is currently a Senior Research Fellow at the Institute of Historical Research, University of London. He is also a Trustee of the British Library, of the Canal and River Trust and of the Society of Court Studies, an academic study group he helped to found 25 years ago. He is a fellow of the Society of Antiquaries and the Royal Historical Society. He is currently the Gresham Visiting Professor of the Built Environment and Provost of Gresham College.
Professor Thurley's lecture series are as follows:
2020/21 Great Tudors and Stuart Houses
2019/20 Theatres of Revolution: The Stuart Kings and the Architecture of Disruption
2018/19 Art and Power
2017/18 Merchants, Money and Megalomania: Buildings in the West End of London
2016/17 History at a Turning Point: Why We Have to Rethink Conservation
2015/16 Power, Medicine, Genius and Destruction: Great London Buildings and Their Creators 1200-2000
2014/15 The Royal Palaces of England
2010/13 A History of English Architecture: 410-2013
2010 London and its Architecture