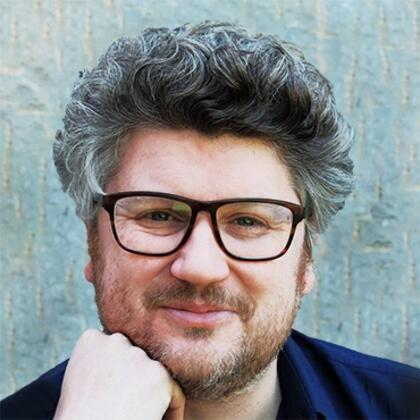 Tom Service
Professor of Music (2018-2019)
Tom Service was the Gresham Professor of Music 2018-2019, as well as a renowned music journalist and television and radio presenter. He has written regularly for The Guardian since 1999. His book titles include Music as Alchemy: Journeys with Great Conductors and their Orchestras and Thomas Adès: Full of Noises.
Professor Service joined BBC Radio 3 in 2001 presenting Hear and Now and later Music Matters. He has been a contributor and presenter across BBC Radio and Television since. In 2011 he joined the BBC Proms team, presenting the world's largest annual classical music festival. Professor Service is also the creator of several successful documentaries on classical music, including the highly acclaimed The Joy of Mozart.
He is Chairman of Contemporary Music for All (CoMA) and a Council member of the Royal Philharmonic Society. He is one of the co-creators of the National Festival of Contemporary Music for All, which aims to enable musicians of all abilities to participate actively in contemporary music.
He has given lectures at the Universities of Oxford, Cambridge, and York, including the Cantor Modern Art Lecture in York in 2009. From 2002 to 2004 he was Lecturer on the MA course at Trinity College of Music in London.
Professor Service has spoken about classical music to audiences around the world, including at the Salzburg Festival, Lucerne Festival, Aldeburgh Festival, Ensemble Modern, Barbican Centre, South Bank Centre, Edinburgh International Festival, Royal Opera House, Scottish Opera, Welsh National Opera, London Symphony Orchestra, London Philharmonic Orchestra, BBC Symphony Orchestra, London Sinfonietta, Royal Philharmonic Society, and the Stockholm International Composer Festival.
In 2016 he began presenting The Listening Service on BBC Radio 3. The programme creates connections across music genres to reveal a whole world of music, engaging audiences in new ways with its mix of speech and music, so that Miley Cyrus and Mozart, Herbie Hancock and Franz Schubert appear in the same programme. In 2017 The Listening Service won Special Commendation prizes at the Prix Europa and the Prix Italia.