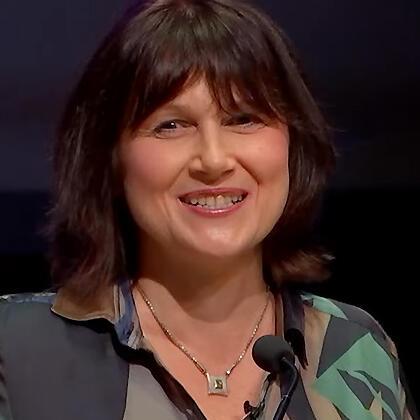 Professor Marina Frolova-Walker
Professor of Music (2019 - )

Visiting Professor of Russian Music (2018 - 2019)
Marina Frolova-Walker is Gresham Professor of Music. She is a Russian-born British musicologist and music historian. She is Professor of Music History and Director of Studies in Music at Clare College, Cambridge.
Professor Marina Frolova-Walker is a specialist in the Russian music of the 19th and 20th centuries. She has published extensively on Russian music and is a well-known lecturer and broadcaster for BBC Radio 3. Among her many awards and appointments, she is a Fellow of the British Academy and was awarded the Edward Dent Medal in 2015 by the Royal Musical Association for her achievements in musicology.
She was appointed as Visiting Gresham Professor of Russian Music in 2018-19.
You can find more information on Marina and her research interests at: https://www.marinafrolova-walker.com/
Past Music Professors
John Bull (1596/7)
Thomas Clayton (1607)
John Taverner (1610)
Richard Knight (1638)
Sir WIlliam Petty FRS (1650/51)
Thomas Baynes (1660/61)
William Perry (1681)
John Newey (1696)
Robert Shippen (1705)
Edward Shippen (1710)
John Gordon (1723/24)
Thomas Brome (1739/40)
Charles Gardner (1745)
Thomas Griffin (1763)
Theodore Aylward Sr. (1771)
R J S Stevens (1801)
Edward Taylor (1837)
Henry Wylde (1863)
Frederick Bridge (1890)
Henry Walford Davies (1924)
Peter Latham (1946)
Antony Hopkins (1963)
Brian Trowell (1971)
Iannis Xenakis (1975)
A Percival (1980)
John Dankworth (1984)
Peter Renshaw (1986)
David Owen Norris (1993)
Stephen Pratt / Joanna McGregor (1997)
Piers Hellawell (2000)
Adrian Thomas (2003)
Roger Parker (2006)
Christopher Hogwood (2010)
Christopher Page (2014)
Tom Service (2018)
Marina Frolova-Walker (2019)
Find out more about our Professors in Our History section.