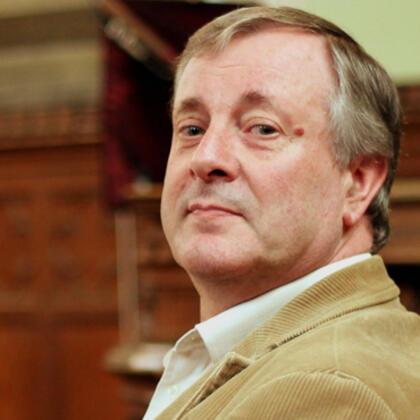 Professor Alister McGrath
Professor of Divinity (2015-2018)
Alister McGrath was the Gresham Professor of Divinity from 2015-2018. He is the Andreos Idreos Professor of Science and Religion at the University of Oxford, and one of the world's most respected theologians.
Born in Belfast, Professor McGrath began his university studies in the field of science, achieving a First Class Honours in Chemistry (specialising in Quantum Theory), followed by a doctorate in molecular biophysics, both at the University of Oxford. He then altered focus and achieved a First Class Honours in Theology, a DD from the Faculty of Theology for his work on historical and systematic theology, and a DLitt from the Division of Humanities for his work in science and religion.
Before becoming Andreos Idreos Professor of Science and Religion at the University of Oxford in April 2014, Professor McGrath was Professor of Theology, Ministry and Education at King's College London (2008-14), and Professor of Historical Theology at the University of Oxford (1999-2008).
He has published 24 books, the most recent of which include: Emil Brunner: A Reappriasal (2014), C. S. Lewis – A Life (2013), Darwinianism and the Divine: Evolutionary Thought and Natural Theology (2011) and A Fine-Tuned Universe? The Quest for God in Science and Theology (2009). Other books include: Dawkins' God: Genes, Memes and the Meaning of Life (2004), A Brief History of Heaven (2002) and The Future of Christianity (2000). His books have been translated into 27 languages including Chinese, Arabic, Farsi and Vietnamese.
In line with his unique academic background, Professor McGrath's main area of interest is in the interaction of theology and the sciences. He is actively engaged in the development and defence of natural theology, and in showing that the dialogue between science and religion can be theologically productive and engaging. As a former atheist, Professor McGrath's work has established him as one of the world's leading Christian apologists. He regularly engages in debate and dialogue with some of the most prominent atheists, including through his public debates with the likes of Richard Dawkins, Daniel Dennett, Christopher Hitchens and Susan Blackmore.
Professor McGrath is a highly sought-after public speaker and has delivered lectures around the world, from Beijing to Massachusetts and from Bermuda to Westminster Abbey. Appointed Gresham Professor of Divinity in 2015, he looks forward to delivering a series of lectures which will offer "a coherent exploration of how Christian Theology can engage with concerns and debates within modern culture, focussing on one of its leading elements – the natural sciences."