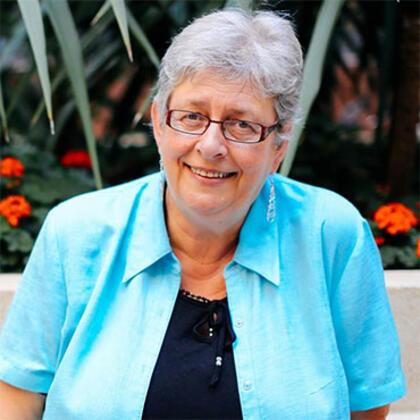 Professor Carolyn Roberts
Frank Jackson Professor of the Environment (2014-2018)
Professor Carolyn Roberts was the first Frank Jackson Professor of the Environment at Gresham College from 2014-2018. She is a water and environment consultant, having undertaken innovative work in environmental science, management and technology for over thirty years.
Professor Roberts was formerly Director of the Environmental Sustainability Knowledge Transfer Network at the University of Oxford, her team being funded by Innovate UK to link businesses and universities nationally. Her research at Oxford concerned engagement between the science community and Local Authorities on flooding. She still works as a technical assessor for Innovate UK grant applications. Before this, she was Co-Director of the Centre for Active Learning (CeAL), one of the UK's national Centres for Excellence in Teaching and Learning, at the University of Gloucestershire, and Head of the School of Environment.
As a water resource management specialist, Professor Roberts' main interests lie in the minimising of direct environmental impacts of development activity on the water environment, for example in mining, waste disposal, construction or similar activities. She has a long history of hydrological consultancy work for public and private agencies in this area, but most of all she enjoys introducing people to applied hydrological problems such as human impacts on the water environment. Her work creates powerful links between 'real world problems' and learning. The strangest research can generate the most fascinating material for learning in this area, such as the tracking of the movement of corpses in rivers (for the police) and advising local government on flood management (after the UK's 2007 inundations), which have both proved notably motivating issues. Professor Roberts is also fascinated by the institutional change process in higher education, especially in relation to sustainable development, and teaching and learning policies.
As well as innumerable academic papers, Professor Roberts has authored, joint authored and edited four books with broadly pedagogic themes. She has spoken around the world on water management and sustainability-related projects undertaken in the UK, Europe, North and sub-Saharan Africa, and Bangladesh, and increasingly on the issues and challenges of science communication. Her BBC Radio 4 'The Life Scientific' programme in 2016 (http://www.bbc.co.uk/programmes/b07428bk) explored some of these challenges, and her contributions to TV series 'Silent Witness' and 'Robbie Coltrane's Critical Evidence' had a more popular focus. She was national Chair of the Society for the Environment, is a Vice President of the Institution of Environmental Sciences, a Trustee of the Worshipful Company of Water Conservators, and was formerly Chair of the Higher Education Academy's Geography, Earth and Environmental Sciences Subject Centre Advisory Board.
In 2014 Professor Roberts became the first Frank Jackson Professor of the Environment at Gresham College, only the second time in which a new Professorship has been created at the College in over 400 years. In this role, she wanted to deliver "an inspiring and challenging environmental lecture programme that will pull together audiences from different sectors, engage people, and stimulate genuine debate." Her lectures' focussed on three main themes: the application of environmental science, innovation and collaboration.