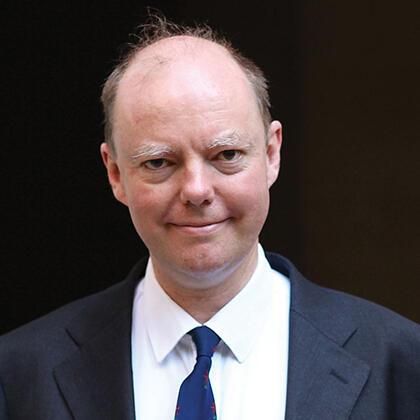 Professor Chris Whitty
Professor of Physic (2018 - )

Visiting Professor of Public Health (2013 - 2018)
Christopher Whitty KCB FRCP FMedSci is Gresham Professor of Physic (the term for medicine when the post was created in 1597) at Gresham College. He is also Chief Medical Officer (CMO) for England and the UK Government's Chief Medical Adviser.

He still practices as an NHS Consultant Physician at University College London Hospitals (UCLH) and the Hospital for Tropical Diseases. He is involved in many day-to-day public health decisions for the UK.

He is a Fellow of the Academy of Medical Sciences. He was the Chief Scientific Adviser at the Department of Health and Social Care and head of the National Institute for Health Research (NIHR). He was interim Government Chief Scientific Adviser and Head of the Science and Engineering Profession and was previously Chief Scientific Adviser at the UK Department for International Development (DFID). Before becoming CMO he was Professor of Public and International Health at the London School of Hygiene & Tropical Medicine, and was previously Visiting Gresham Professor of Public Health.
Professor Whitty has worked as a clinician and in public health and clinical research in the UK, Africa and Asia. He undertook his postgraduate training in epidemiology, economics and medical law.
Past Physic Professors
Matthew Gwinne (1596)
Peter Mounsell (1607)
Thomas Winston (1615)
Paul de Laune (1643)
Thomas Winston (1652)
Jonathan Goddard FRS (1655)
John Mapletoft (1675)
Henry Paman (1679)
Edward Stillingfleet (1689)
John Woodward (1692)
Henry Pemberton (1728)
Thomas Healde (1771)
Christopher Stanger (1789)
Henry Herbert Southey (1834)
Henry Powell (1865)
E Symes Thompson (1867)
Fleming Mant Sandwith (1907)
Robert Armstrong-Jones (1918)
George Newman (1929)
James Alison Glover (1934)
Vincent Sutherland Hodson (1937)
Hamilton Hartridge (1946)
John Leonard d'Silva (1955)
Arthur John Buller (1962)
H Harris and D V Davies (1964)
J P Quilliam (1965)
H C Stewart (1968)
David Slome (1970)
John Daniel Griffiths (1986)
Sir Kenneth L Stuart (1988)
Francis G Cox (1992)
Baroness (Susan) Greenfield (1995)
Hilary Rose and Steven Rose (1999)
Keith Kendrick (2002)
Christopher Dye (2006)
William Ayliffe (2009)
Martin Elliott (2014)
Find out more about our Professors in Our History section.