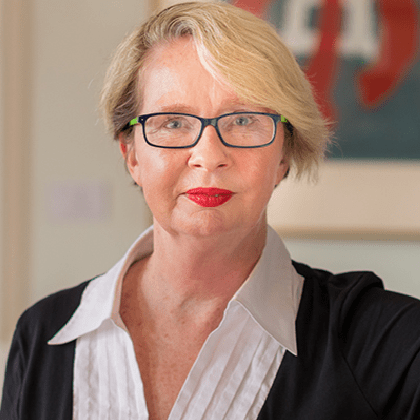 Professor Joanna Bourke
Professor of Rhetoric (2019 - )

Visiting Professor of History (2017-2019)
Joanna is Gresham Professor of Rhetoric.
She is a well-known social and cultural historian. She is a Fellow of the British Academy and outgoing Chair of its Modern History Section. She is the prizewinning author of 14 books, including histories on modern warfare, medicine and science, psychology and psychiatry, the emotions, pain, what it means to be human, and sexual violence. Her books have been translated into many languages. Her book An Intimate History of Killing won the Wolfson Prize and the Fraenkel Prize. She is a prolific public speaker and is College Orator at Birkbeck, as well as a frequent and award-winning contributor to TV and radio programmes. She was a Visiting Professor of History at Gresham College from 2017-19.
Professor Joanna Bourke said: "I am very excited to become Gresham Professor of Rhetoric because Gresham College's four centuries of service to London, the UK, and the international community are an inspiration. Like all professors at Gresham College, I strongly believe in the power of education to improve our world. People who attend lectures at Gresham College (or watch them online) are intellectually engaged thinkers: as the next Gresham Professor of Rhetoric, I am thrilled to be able to continue discussing topics of interest with them.
"I chose the theme of my first series of lectures – the body – for its considerable contemporary importance. In my series, I hope to reveal the historically varied ways that people have understood bodies. These variations are often surprising; always intriguing. The changing medical, scientific, moral, economic, and political meanings given to the material body have radical implications for human culture. Understanding these meanings change tell us a great deal about what it means to be human."
Her book,"Disgrace: Global Reflections on Sexual Violence" will be published by Reaktion Books in July 2022
Past Professors of Rhetoric
Caleb Willis (1596/7)
Richard Ball (1598)
Charles Croke (1613/14)
Henry Croke (1619)
Edward Wilkinson (1627)
John Goodridge (1638)
Richard Hunt (1654)
William Croune FRS (1659)
Henry Jenkes (1670)
John King (1676)
Charles Gresham (1686)
Edward Martyn (1696)
John Ward (1720)
Jospeh Whateley (1759)
Joseph Thomas Waugh (1797)
F Newnham (1808)
Edward Owen (1817)
Thomas Francis Dallin (1875)
Charlton Lane (1863)
J M Rae (1988)
Sir Andrew Derbyshire (1990)
Peter G Moore (1992)
J E Nixon (1881)
Foster Watson (1915)
Oliver Elton (1929)
George Stuart Gordon (1930)
Arthur William Reed (1933)
Rowland Walter Jepson (1946)
Lord David Cecil (1947)
Nevill Coghill (1948)
William Empson (1953)
Richard Hughes (1954)
Bonamy Dobrée (1957)
Stephen Spender (1961)
John Wain (1963)
Cecil Day-Lewis (1963)
Patric Dickinson (1965)
Sir Robert Birley (1968)
John Morley Pick (1985 and 1987)
Jan Kott (1986)
Peter Hennessy (1994)
Lynette Hunter (1997)
Richard Sorabji (2000)
Kathleen Burk (2003)
Rodney Barker (2006)
Sir Richard Evans (2009)
Belinda Jack (2013)
Jonathan Bate (2017)
Joanna Bourke (2019)
Find out more about our Professors in Our History section.