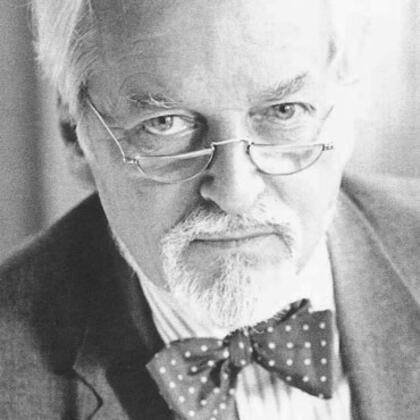 Professor Sir Andrew Derbyshire
Professor of Rhetoric (1990-1992)
Sir Andrew Derbyshire FRIBA was Professor of Rhetoric at Gresham College between 1990 and 1992. As an architect, his lectures were an attempt to "decipher the discordant language of today's city."
Sir Andrew was a senior partner, Chairman, and President, of Robert Matthew Johnson-Marshall (RMJM) and Partners. His best-known work, undertaken as principal architect with RMJM, was the master-planning and designing of the University of York campus in Heslington (from 1962). His other works included the Castle Market in Sheffield and the post-war reconstruction of the City of Suez from 1974.
Upon his appointment at Gresham College, he set out his intentions for the Professorship as follow:
"I saw in the professorship the opportunity to try and decipher the discordant language of today's city; to look forward to new relationships between politics, finance and the placemakers which make it possible for London to achieve for 21st century Britain what the cities of the Renaissance did for the countries of the Mediterranean. If this seems an overwhelming ambition I believe that is precisely what we need."