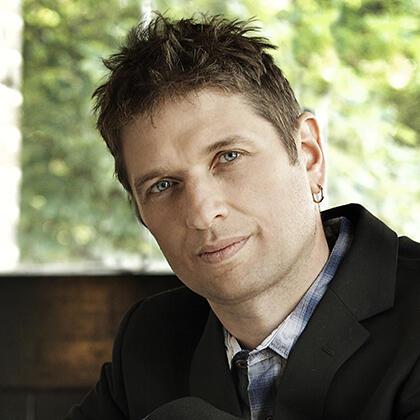 Professor Milton Mermikides
Gresham Professor of Music (2023 - )
Milton Mermikides is a composer, guitarist, technologist, academic and educator in a wide range of musical styles and has collaborated with artists and scientists as diverse as Evelyn Glennie, Tim Minchin, Pat Martino, Peter Zinovieff, John Williams and Brian Eno. Son of a CERN nuclear physicist, he was raised with an enthusiasm for both the arts and sciences, an eclecticism which has been maintained throughout his teaching, research and creative career.
He is a graduate of the London School of Economics (BSc), Berklee College of Music (BMus) and the University of Surrey (PhD). He has lectured, exhibited and given keynote presentations at organisations like the Royal Academy of Music, TEDx, Royal Musical Association, British Library, Smithsonian Institute and The Science Museum and his work has been featured extensively in the press. His music, research and graphic art are published and featured by Oxford University Press, Cambridge University Press, Deutsche Grammophon, Sony and more, and he has won awards, scholarships and commendations for writing, teaching, research and his charity work.
Milton is Associate Professor in Music at the University of Surrey, Professor of Guitar at the Royal College of Music, Deputy Director of the International Guitar Research Centre, an Ableton Certified Trainer, and lives in London with his wife, the guitarist Bridget Mermikides and their daughter Chloe. He is also a Vice-Chair of Governors at Addison Primary School, a state school which foregrounds music education, offering free instrumental lessons for all on Pupil Premium.
Past Music Professors
John Bull (1596/7)
Thomas Clayton (1607)
John Taverner (1610)
Richard Knight (1638)
Sir WIlliam Petty FRS (1650/51)
Thomas Baynes (1660/61)
William Perry (1681)
John Newey (1696)
Robert Shippen (1705)
Edward Shippen (1710)
John Gordon (1723/24)
Thomas Brome (1739/40)
Charles Gardner (1745)
Thomas Griffin (1763)
Theodore Aylward Sr. (1771)
R J S Stevens (1801)
Edward Taylor (1837)
Henry Wylde (1863)
Frederick Bridge (1890)
Henry Walford Davies (1924)
Peter Latham (1946)
Antony Hopkins (1963)
Brian Trowell (1971)
Iannis Xenakis (1975)
A Percival (1980)
John Dankworth (1984)
Peter Renshaw (1986)
David Owen Norris (1993)
Stephen Pratt / Joanna McGregor (1997)
Piers Hellawell (2000)
Adrian Thomas (2003)
Roger Parker (2006)
Christopher Hogwood (2010)
Christopher Page (2014)
Tom Service (2018)
Marina Frolova-Walker (2019)
Find out more about our Professors in Our History section.