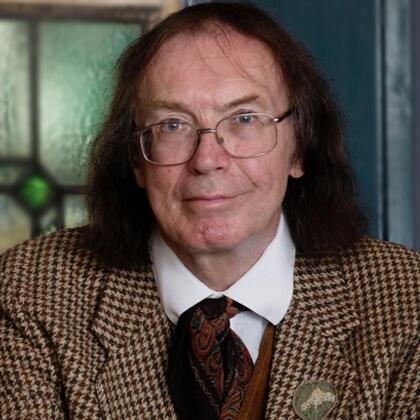 Professor Ronald Hutton
Professor of Divinity (2022-)
Professor Hutton is Professor of History at the University of Bristol. He took degrees at Cambridge and then Oxford Universities, and was a fellow of Magdalen College, Oxford. He is now a Fellow of the British Academy, the Royal Historical Society, the Society of Antiquaries and the Learned Society of Wales, and has won awards for teaching and research.
He has lectured all over the world, authored 18 books and 93 essays, appeared in or presented scores of television and radio programmes, and sits on the editorial boards of six journals concerned with the history of religion and magic.
He is currently working on the second volume of his biography of Oliver Cromwell.
Past Divinity Professors
Anthony Wotton (1596)
Hugo Gray (1599)
William Dakins (1604)
George Mountayne (1606/07)
William Osbolston (1610)
Samuel Brooke (1612)
Richard Holdsworth (1629)
Thomas Horton (1641)
George Gifford (1661)
Henry Wells (1686)
Edward Lany (1691)
John Bridgen (1728)
B Halifax (1760)
H J Parker (1800)
John William Burgon (1867)
H E J Bevan (1888)
W H Thompson (1904)
Henry Martyn Sanders (1946)
Oscar Hardman (1957)
Gordon Huelin (1962)
Gordon Phillips (1967 and 1971)
Gordon Reginald Dunstan (1969)
Ulrich E Simon (1973)
Viscount Combermere (1975)
Richard Chartres (1987)
John Bowker (1992)
Richard Holloway (1997)
Gwen Griffith-Dickson (2001)
Keith Ward (2004)
Lord Harries (2008)
Lord Plant (2012)
Alister McGrath (2015)
Alec Ryrie (2018)
Find out more about our Professors in Our History section.